Without proper planning, a dock or boathouse can interfere with fish spawning, cause erosion and dump harmful substances into your lake.
Thinking about replacing or building a dock or a boathouse? Start with securing the necessary permits and approvals. Visit our Permits and Approvals section for more information.
Docks
You can opt for environmentally friendly docks, and you should for a few reasons: they cause minimal disturbance to fish; they keep shoreline habitat; and they can be taken out of the water in the winter.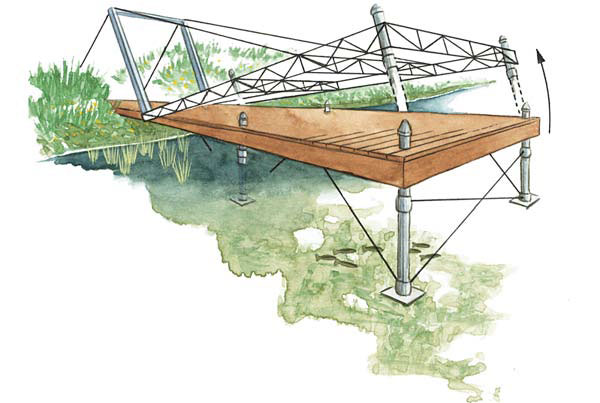 Cantilever Docks
Advantages
Longer life span in part due to more ice protection
No disruption to water or lake bed
Usable in shallow water
Disadvantages
They can be expensive to buy or build
They may not be suitable on lakes with large fluctuations in water levels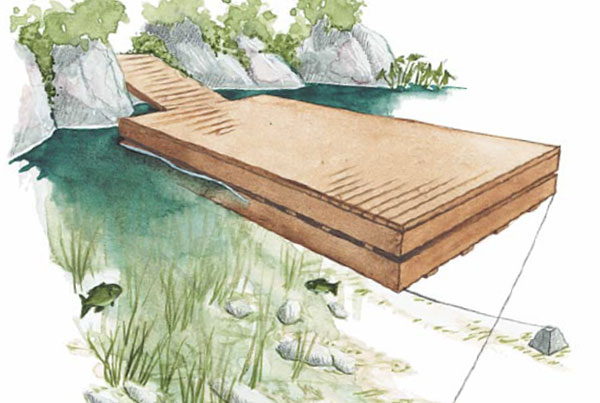 Floating Docks
Advantages
Most acceptable to regulatory agencies
Relatively easy and inexpensive to build
Disadvantages
They can lack stability if they're too small (we recommend at least 12 square metres)
They can block sunlight getting to aquatic plants
They tend to be heavier and more difficult to pull in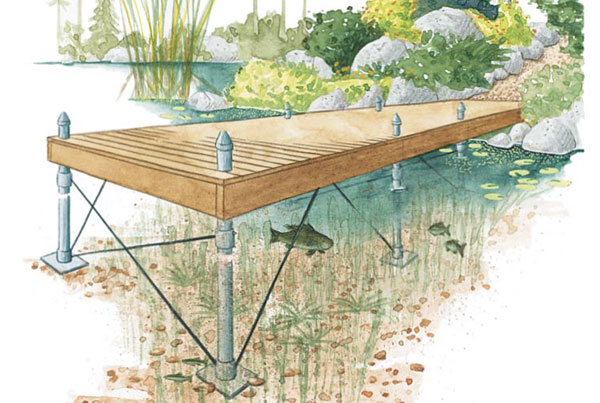 Pipe Docks
Advantages
Typically the cheapest and easiest to build
Minimal environmental impact
Light and easy to remove from the water
Disadvantages
Their maximum water depth is two metres
The distance between the dock surface and the water surface varies due to fluctuating water levels. You may be able to get adjustable legs to help reduce the variance
They should be removed for winter as they tend to be sensitive to ice pressures
They are vulnerable to damage caused by waves in unprotected shore areas
They are not suitable for muddy conditions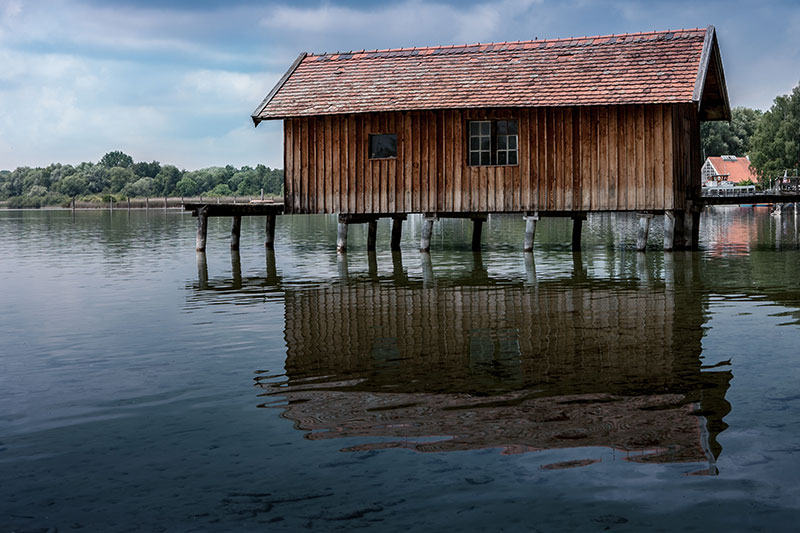 Before building your boathouse, you'll need a construction plan. Be sure your plan:
minimizes lake bed disturbance
limits disturbance to water flows
doesn't impact light penetration
accounts for safe storage of oil and petrol ¾ ideally well above water level and not susceptible to flooding
For more information on docks, be sure to read The Dock Primer by Fisheries and Oceans Canada.
{"visible_panels":"4","width":"2500","height":"800","orientation":"horizontal","panel_distance":"1","max_openedaccordion_size":"40%","open_panel_on":"hover","shadow":"false","autoplay":"false","mouse_wheel":"false"}
Join our community
Receive our free monthly e-newsletter for lake and shoreline information
Sign Me Up